The Los Angeles Personal Injury Attorney Law Firm is here to guide you through the minefield of the litigation process. We are a boutique firm that puts the interest of our clients ahead of our own, which is the basis of any fiduciary relationship. We are passionate about the practice of law and will serve to protect and preserve all of your rights under the law. We do not subscribe to the "business as usual" model of litigating. We knock on doors, climb fences, and push through walls to get the results you deserve. We work hand in hand with our clients as a team to set goals and accomplish them together.
When you are injured and suffering, the last thing you want to do is worry about your case instead of tending to your injuries. There is nothing more frustrating than to be kept in the dark about the status of your case. That is precisely the reason why we will provide you constant updates and keep the communication channels open.
We will not make a promise we cannot keep. However, our work ethic will provide you with the peace of mind that the dedicated members at the Los Angeles Personal Injury Attorney Law Firm are relentlessly working to attain your goals. Our responsibility is to you and to no one else.
We believe that "impossible" is a challenge and worth taking on. 
NEGIN YAMINI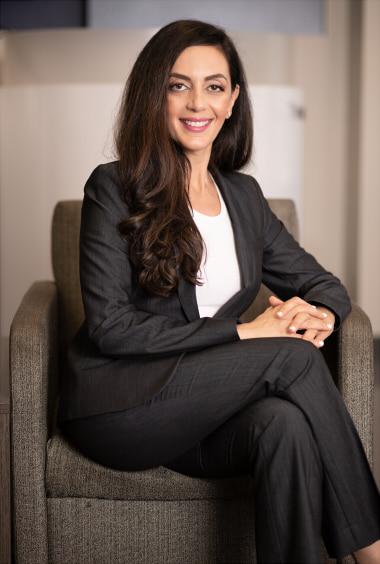 PERSONAL INJURY ATTORNEY
A trial attorney by trade, Negin Yamini is resolute, methodical, and thorough in her preparation of a case throughout the litigation process.  At the center of Negin's style and work ethic is communicating daily and actively with clients.  This level of communication has formed between Negin and her clients a solid and consistent bond, one that extends beyond the attorney-client relationship. 
Negin's experience in the civil field includes auto, motorcycle, bicycle, pedestrian, and bus accidents; slip and falls; assault and battery cases; and catastrophic injuries.  In these areas of law, Negin conscientiously analyzes the strengths and weaknesses of your case and approaches every issue with a zeal, creativity, and fearlessness that allow her team to develop an effective strategy and preserve all remedies available to you under the law. Negin and her team will serve as your zealous advocates from the very inception of your case.
Negin graduated Summa Cum Laude from the University of California, Los Angeles (UCLA).  At UCLA, Negin earned a Phi Beta Kappa nomination, and was awarded the prestigious American Dream Fellowship for academic excellence and dedication to public service and social justice.  Negin obtained her juris doctor degree from Hastings College of the Law.  At Hastings, Negin was awarded the prestigious Tony Patino Fellowship and was recognizes by the Refugee and Human Rights Clinic for her relentless and zealous representation of a Mongolian woman in her fight for political asylum in the United States.
JAE HAHN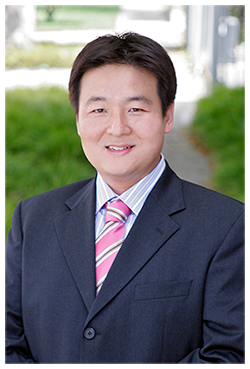 PERSONAL INJURY LITIGATION PARALEGAL
Jae Hahn is a senior litigation paralegal with over twelve years of experience in the legal field. Jae has a background in real estate and human resources, but nowadays his primary focus is law.  Jae is well rehearsed in various areas of law, including but not limited to personal injury, business law and organizations, contracts, real estate, probate and employment. However, Jae specializes in personal injury matters, auto accidents (auto and bicycle), slip and falls, and assault and battery.  In personal injury matters, Jae ensures that clients are getting treatment for their injuries or refers clients to specialists who are qualified to diagnose their injuries.

It is Jae's responsibility to interview clients, review their documents and present the case to the attorney.  From there, Jae and the attorney review the file and analyzing the strength and weaknesses of the case and develop strategic goals. The strategy often encompasses an offensive approach to litigation, anticipating the move of the other party.
Jae is always available for clients and is proactive in providing clients with regular updates on their case to ensure everyone is informed.